Commemorative Bricks
Engraved bricks honor Trail lovers and their friends, family, and pets along the Butler Trail. There are currently two locations with bricks available:  Lakeshore Park Exercise Station and Butler Shores Exercise Station.
Engraved bricks can be personalized to tribute Trail lovers, friends, family, and pets.
4″x 8″ brick is $250 
8″x 8″ brick is $500  
Brick Requirements
Brick text can include family or individual names and dates—no political, religious, profane, or commercial names, messaging, or advertising. 4×8″ bricks offer three rows of text with 15 characters in each row. 8×8″ bricks provide six rows of text with 15 characters in each row. Every space and punctuation mark counts as a character.
Locations Currently Available
We have two locations where commemorative bricks are currently available for purchase: Butler Exercise Area and the Lakeshore Exercise Area. 
Bench Dedications
Dedicating a bench is an impactful way to personalize a part of the Trail and honor a loved one. A limited number of benches are available at the new Rainey Street Trailhead location (currently under construction). 
The fee to 'adopt' a bench is $25,000 for perpetuity or $12,500 for 10 years with the first right of refusal for renewal. The fee includes a dedication plaque and maintenance for the bench.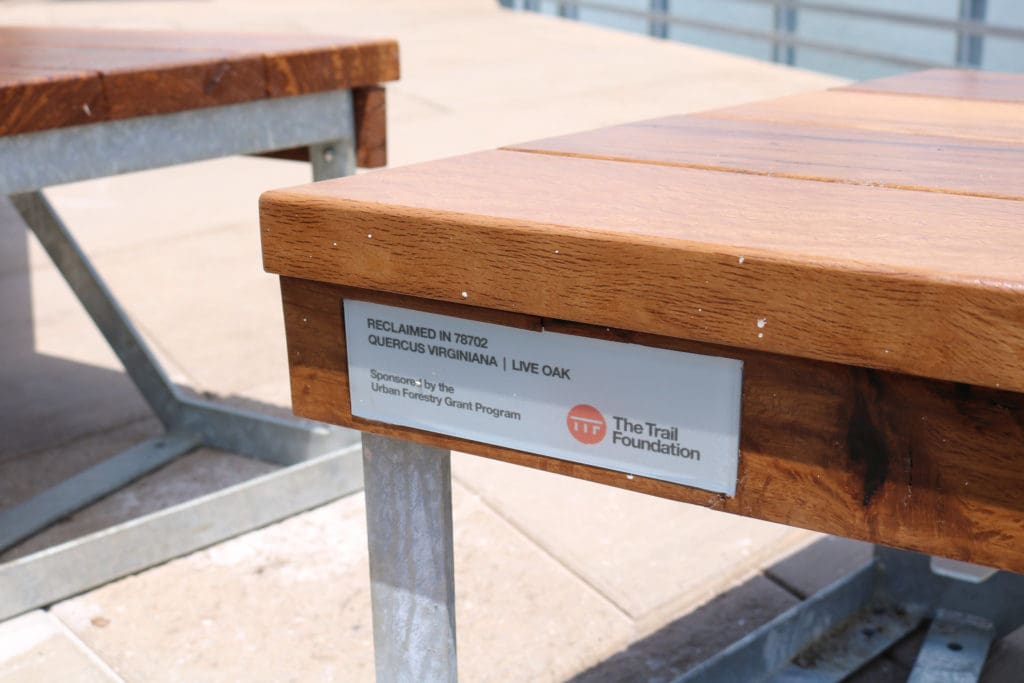 Dedication plaques have 2 customizable lines with 120 characters per line. Each space (including blanks and punctuation) counts as a character.  The plaque also includes a non-customizable line that reads "In Honor Of."
Names only can be listed, no phrases or sentences.
Disclaimers and Contact Information
Annual maintenance is covered in the costs of the bench adoption. However, please be aware that the wood will be allowed to weather naturally over time. Depending on the depth, any carved vandalism will be sanded off. If you notice that your bench has been defaced, please get in touch with The Trail Conservancy directly.